Martin Pringle will be relocating its Wichita office to a new downtown location in the first quarter of 2019. Managing partner Stan Smith announced this morning that the firm would be moving from its current space at Broadway and Douglas to new construction just down the street.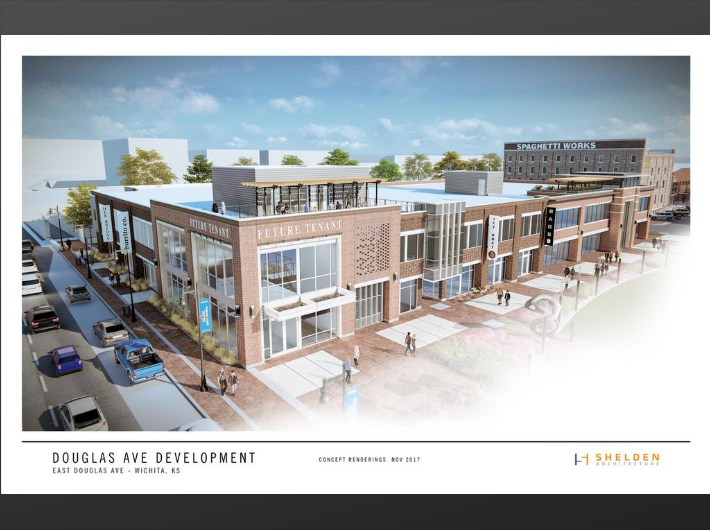 The new Wichita headquarters, which will feature space on three floors and a third-floor rooftop patio area, will be part of a $23 million development in the 600 block of East Douglas next to Naftzger Park. GC Development Group, Landmark Commercial Real Estate and Kansas City, Mo.-based Sunflower Development plan the building of a 60,000-square-foot office and retail complex adjacent to a converted Spaghetti Works building (which will be new apartments). Martin Pringle will be the anchor tenant for the office and retail complex.
With its current lease ending, the firm began the process of considering space options. "We started looking around to see what was available, but we had a desire to stay downtown," says Smith. "There just wasn't a whole lot available downtown when we started this process in 2015." The new development meets all of the firm's needs - innovative, fresh, downtown space. "It's fun and exciting to be a part of everything that's going on in downtown," Smith says.
"It's everything that we're trying to push with our brand," Kim Doze-Lohmann, Martin Pringle's director of marketing, says. "It's a firm-wide movement. It's about open space and collaborative areas." Martin Pringle also has offices in Overland Park and in Kansas City, MO, which have also grown into new, modern spaces in the past several years.
More from the Wichita Business Journal: https://www.bizjournals.com/wichita/news/2018/01/02/martin-pringle-law-firm-makes-a-move.html