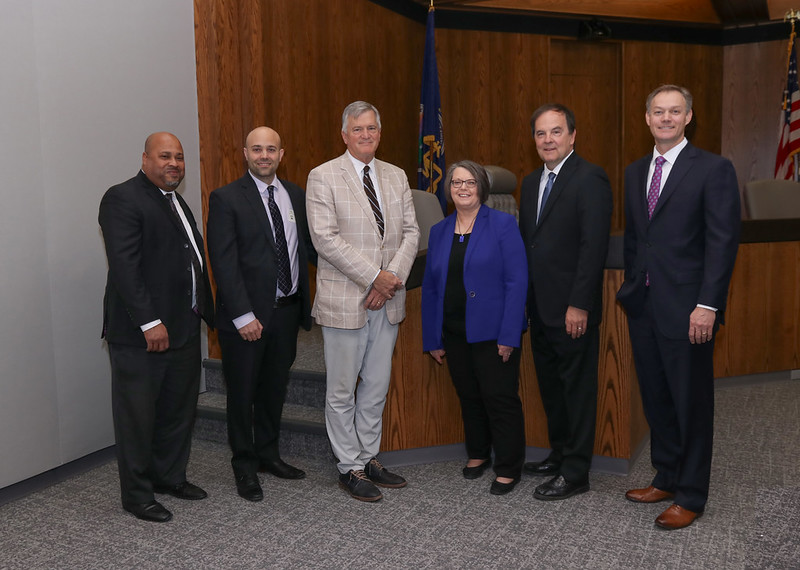 Congratulations to Martin Pringle Attorney, Robert Moody, for being honored by the Kansas Supreme Court Justices for his contribution to pro bono efforts in Kansas!
Robert Moody was born in Montgomery, Alabama, and lived there for the first ten years of his life. To this day, he remains a rabid Auburn fan. When he was in grade school, Robert and his family moved to Protection, Kansas, a little town full of friendly people.
Robert's first job in the legal field was working as a runner. After graduating from Wichita State University's legal assistant program, Robert began working as a legal assistant in a small and bustling general litigation firm in Wichita, Kansas. Seven years later, Robert applied for a position in the clerk's office of the United States District Court for the District of Kansas. He thrived in this competitive environment, and was selected for the job from a large pool of candidates. After three years in the clerk's office, Robert accepted a position as the courtroom deputy for the Honorable Monti Belot, United States District Court Judge.
Robert's experiences in these positions stimulated his keen intellect and inspired him to attend law school. After observing lawyers and legal proceedings from these distinctly different angles, Robert realized that he could handle the pressures and challenges of practicing law. More importantly, he realized he wanted to become a lawyer. Taking on more responsibility, and having a greater impact on the outcome of contested matters, appealed to Robert. He wanted to be a direct advocate for his clients, and he wanted to help them achieve favorable resolutions to their legal problems.
Robert's practice focuses on general civil & commercial litigation, insurance defense, DUI defense, as well as divorce and family law. He is a member of many professional and civic organizations, including Urban Professionals of Wichita, Community Operations Recovery Empowerment, the Kansas Association of Defense Counsel, and the Defense Research Institute.