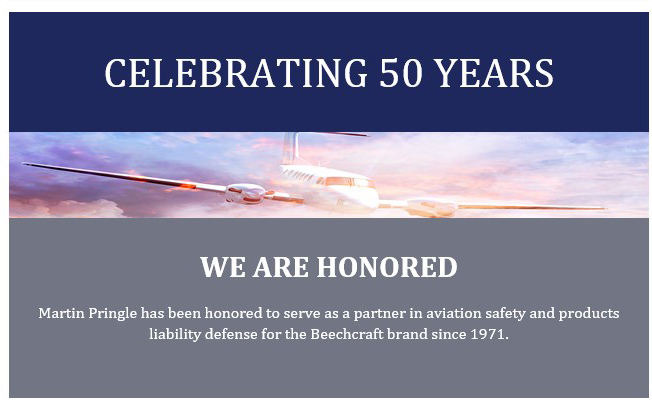 Martin Pringle has been honored to serve as a partner in aviation safety and products liability defense for the Beechcraft brand since 1971.
As the 1970s began, Olive Ann Beech reached out to Martin Pringle co-founder, Robert Martin, regarding ways to better manage aviation safety and risk for Beechcraft, while addressing increasing claims against aviation manufacturers. This led to the development of the renowned aviation safety and products liability defense program, the accident investigation program, and the creation of the captive insurance company to ensure claims control for Beechcraft Corporation. Under the leadership of Bob Martin and Bill Oliver, this partnership steadily expanded to include almost every area of safety improvement, risk management and products liability defense work. This includes accident investigation and prevention, and then defending the product if litigation is filed. Over the years they perfected these programs, much of which still guide our approach to this day.
Olive Ann was an icon of the Beechcraft brand, and we can't think of a more touching tribute than Textron Aviation creating the 75th Anniversary Special Edition Bonanza G36 in her honor.
We are honored to be allowed to also share this video of it with you.