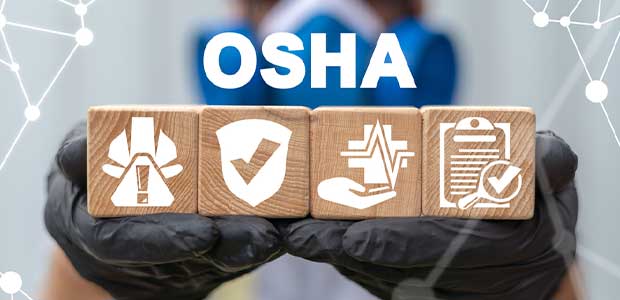 On June 10th, 2021, the Occupational Safety and Health Administration (OSHA) issued an Emergency Temporary Standard (ETS) regarding new occupational COVID-19 mandates for healthcare employers. OSHA is a regulatory agency within the Department of Labor created to ensure safe working conditions for all employers and their workers.
The ETS applies to settings where any employee provides healthcare services or healthcare support services. If the workplace performs other non-healthcare services, the ETS only applies to the portion performing the healthcare services. If workers are fully vaccinated, they are exempt from masking, social distancing, and barrier requirements when in areas where no person is suspected or confirmed to have COVID-19.
The ETS has the following key requirements.
COVID-19 Plan. Employers should develop and implement a plan including policies and procedures to minimize transmission of the virus to employees.
Patient Screening and Management. Employers should limit and monitor points of entry to settings where patient care is provided.
Personal Protective Equipment (PPE). Employers should provide and ensure employees properly wear facemasks and use respirators and other PPE for exposure to those with COVID-19.
Social Distancing. Employers should ensure employees are separated from others by at least 6 feet.
Physical Barriers. Employers should install barriers at each work locations in non-patient areas where employees are not able to social distance by 6 feet.
Cleaning and Disinfection. Employers should follow standard practices for cleaning and disinfecting surfaces in accordance with CDC guidelines.
Ventilation. Employers should ensure that ventilation systems are used in accordance with design specifications and manufacturers' instructions.
Health Screening. Employers should screen each employee daily, provide testing at no cost to the employee, and remove and notify employees promptly when a person has tested positive.
Vaccination. Employers should provide reasonable paid time off to receive a vaccination and for possible side effects from the vaccine.
Training. Employers should ensure each employee receives proper training on transmission of the virus and the relevant policies and procedures.
This ETS took effect June 21st, 2021, and all applicable employers should be in compliance with most provisions within fourteen (14) days and all other provisions within thirty (30) days. OSHA will update the ETS when it is determined COVID-19 is no longer a grave danger to healthcare settings.
In addition to issuing the ETS regarding healthcare settings, OSHA released updated guidelines for all other workplaces. Generally, most employers no longer need to take precautions to protect fully vaccinated workers from occupational exposure to COVID-19. However, the guidelines do differ for workplaces depending on the vaccination status of employees.
Fully Vaccinated Employees. Employees that are fully vaccinated can resume activities in line with CDC guidelines. This allows employees to resume activities without wearing masks or social distancing. Even if fully vaccinated, the CDC recommends watching and monitoring for symptoms of COVID-19 for fourteen (14) days following an exposure.
Unvaccinated or At-Risk Employees. Employers should take the following steps to protect unvaccinated workers or at-risk workers.
Grant paid time off for employees to get vaccinated.
Instruct any unvaccinated workers that were infected or in close contact with someone who tested positive to stay home.
Implement social distancing in all communal work areas.
Provide workers with face coverings or surgical masks.
Educate and train employees on COVID-19 policies and procedures.
Suggest unvaccinated customers, visitors, and guests wear face coverings.
Maintain proper ventilation systems.
Perform routine cleaning and disinfection following CDC recommendations.
Record and report COVID-19 infections and deaths.
Implement protections from retaliation for workers voicing concerns about COVID-19 hazards.
OSHA reiterates that the key to protecting employees is getting employees vaccinated. Employees should talk to employers about opportunities and paid time off to get vaccinated.
This set of guidelines for all other workplaces are not mandatory or regulatory, but rather exist to provide general guidance to employers. Employers and employees should still follow all federal, state, or local requirements.
If you have questions about the ETS, contact one of our employment attorneys or visit www.osha.gov to learn more about both the ETS and general guidelines issued.