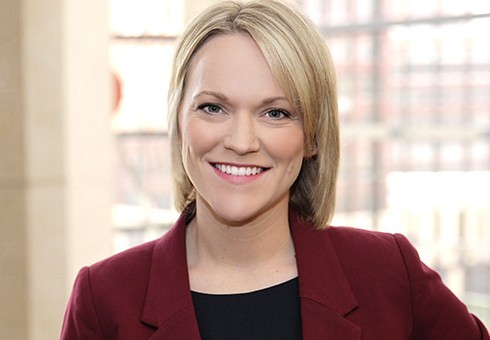 Samantha M. H. Woods
Ph: (316) 265-9311
Fx: (316) 265-2955
Practicing In
Civil & Commercial Litigation
Creditor's Rights
Bankruptcy
Products Liability
Medical Malpractice Defense
Banking & Financial Services
Meet

Samantha Woods

Samantha Woods is an overachiever at heart. Valedictorian of her high school class, and selected to speak at her graduation ceremony from Pittsburg State University, Samantha is no stranger to the rewards that come from hard work and dedication. Samantha graduated from the University of Kansas School of Law and joined Martin Pringle in 2013 after clerking for the firm for two summers. She practices in civil and commercial litigation, and products liability law, medical malpractice defense, agriculture law as well as bankruptcy, and creditor's rights.


Fun Fact
Samantha loves to water ski.  She's been water skiing since she was three years old!
As a seasoned litigator, Samantha is well-equipped to craft client-driven solutions that balance business needs with litigation strategy. She has worked extensively at all stages of litigation including, trial, trial preparation, depositions, and alternative dispute resolutions. Having litigated nearly 10 trials in state and federal court, Samantha is adept at handling many different types of complex legal disputes involving contract and business relationships. Samantha has litigated commercial matters for clients of all sizes in state and federal court throughout the United States.
Additionally, Samantha practices in the area of medical malpractice defense, advocating for physicians, hospitals, physician assistants, health systems, nurses and other medical providers when medical negligence claims arise. Through zealous representation, Samantha has successfully represented her clients in all aspects of malpractice actions from the time a demand is made through the discovery process, writing and arguing persuasive motions, retaining well-qualified experts, taking and defending depositions, engaging in settlement negotiations and, if needed, defending her clients at trial.
Samantha has an active products liability practice, regularly defending manufacturers, distributors, dealers and suppliers in a wide variety of products claims. Defending claims brought throughout the United States, Samantha is a zealous advocate who builds strong partnerships with her clients, gaining a deep understanding of their products and business, which gives her greater insight into how to defend their interests at trial.
Since joining Martin Pringle in 2013, a large part of Samantha's practice has focused on creditor's rights litigation and complex bankruptcy proceedings representing businesses in a wide range of industries. She represents banks, companies, credit unions, individuals, insurers and other financial institutions with regard to matters occurring before and after the commencement of a bankruptcy matter. Samantha also has vast experience helping clients who provide various forms of financing structure and satisfactorily complete those lending relationships. Samantha has represented clients in both district and bankruptcy courts and is well-versed in chapters 7, 11, 12 and 13 of the Bankruptcy Code.
Agriculture Law
Agriculture business is big part of the Kansas economy. Using the knowledge she gained growing up in a family of farmers, Samantha assists agriculture clients in various ways. She represents a number of crop input and agriculture suppliers and assists numerous banks and lending institutions as they support the State's agriculture industry. Samantha also has considerable experience representing creditors facing the unique challenges presented by Chapter 12 bankruptcies.
---
Education
University of Kansas School of Law, J.D., Order of the Coif, 2013
Pittsburg State University, B.A., summa cum laude, 2010
Bar Admissions
Professional Affiliations
Kansas Association of Defense Counsel, Board of Directors, DRI Liaison
DRI, Member
Wichita Women Attorneys Association, Past-President
Wichita Bar Association, Events Committee, Co-Chair
Agri-Business Council, Member
Civic / Social Involvement
Junior League of Wichita, General Meeting Arrangements Chairperson


Pittsburg State University Alumni Association, Sedgwick County Champion
KU Law Board of Governors
Notable Experience
Obtained a defense verdict in a 9-day medical malpractice trial against a physician in which plaintiff was seeking more than $12 million dollars in damages
Obtained a prompt defense verdict after a 23-day medical malpractice jury trial where Plaintiff was seeking more than $8 million
Successfully opposed a motion to transfer jurisdiction of a multi-million dollar bankruptcy case from Kansas to Delaware where the Kansas forum provided a much more convenient and fair forum for the creditors
Assisted with structuring a non-bankruptcy reorganization and sale of a business worth more than $100,000
Defended an admitted liability, rear-end car accident case in which plaintiff was awarded by the jury only $1,000 of her claimed $22,735 damages
Successfully defended against summary judgment and subsequently prevailed in jury trial wherein the client obtained a judgment over ten times greater than what was offered pre-suit
With successful briefing and without the necessity of an evidentiary hearing, obtained for my client an award of attorneys' fees of $105,006.50
Awards And Recognition
Kansas Super Lawyer Rising Star, 2017, 2018, 2019, 2020
Best Lawyers in America, 2021, 2022, 2023
Best Lawyers in America, Bankruptcy Litigation Lawyer of the Year, 2023
Published Articles/Presentations
"The Importance of Getting Legal Help Early for Bankruptcy Creditors." Martinpringle.com, November 11, 2020. Website.
"Subchapter V: Chapter 11 Bankruptcy Reorganization for Small Businesses." Martinpringle.com, October 19, 2020. Website.
"Bankruptcy Creditors: What to do when Faced with a Preference Claim." Martinpringle.com, July 15, 2020. Website.
"What Creditors Need to Know About Chapter 12 'Family Farmer' Bankruptcy." Martinpringle.com, June 23, 2020. Website.