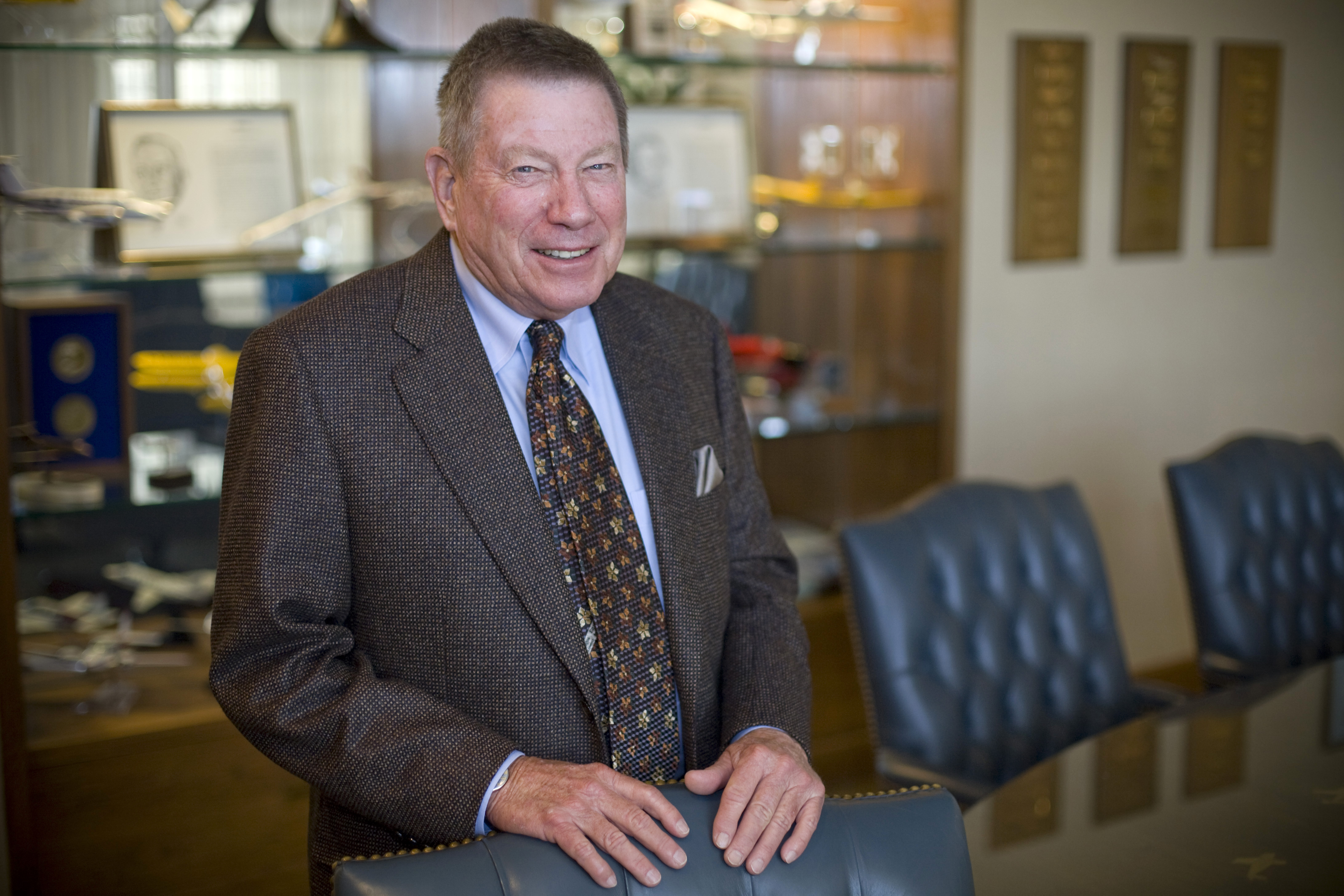 Longtime law firm partner William L. "Bill" Oliver, Jr. passed away on Saturday, May 28, 2022 at age 83. The legacy he leaves at Martin Pringle and in Wichita is immeasurable. A native of Ponca City, Oklahoma, Bill joined what was then Collins, Martin, Pringle & Schell in 1963, after graduating from The University of Oklahoma School of Law.
Fifty-five years later (to the day), Bill retired on June 1, 2018 – having worked his entire career at a single law firm, which grew to a 40-attorney firm over the intervening decades. His last name was added to the firm name in 1979 to recognize his contributions to Martin Pringle.
Bill began his career at Martin Pringle as an oil and gas litigator. At that time, the firm had seven attorneys including Robert Martin and Kenneth Pringle who mentored the new lawyer.
In the early 1970s, Bill's practice shifted to product liability defense. He began representing Beech Aircraft Co. (and later its successor companies), a relationship that continued for his entire career. He estimated that he had been involved with more than 200 product liability cases during his career, cases which took him to all 50 states and to 10 countries including Turkey, France, England, the Philippines, New Zealand, and Australia. Bill was instrumental in the passage and defense of the federal statute of repose for general aviation aircraft manufacturing in the mid-1990s, a law which many view as key to the financial revitalization of the general aviation aircraft industry.
"Bill was known nationally as one of the finest aviation lawyers that there ever was," said Martin Pringle partner Michael Jones, who was mentored by Bill over the years. As fine an attorney as Bill was, his colleagues at Martin Pringle are equally apt to recall him as a good and generous friend. He had a great sense of humor.
Bill inspired the other attorneys in the firm to support local community and arts organizations such as the Zoo and the Wichita Grand Opera and to seek out true work-life balance. According to Jones, "[Bill] was just so good at knowing when it was time to buckle down and do the job, and other times knowing when it was time to go off and have fun." That fun included extensive travel with his wife Mary Lynn, a lot of golf and hunting, and time with family.
Before he retired, Bill was asked about what kept him going professionally and what he might have changed about his career in retrospect. His comments reveal a professional life that most people, lawyers and non-lawyers alike, aspire to:
"Foremost, I like the people I work with, and I like the work I do. . . It's very satisfying to me. . . I don't know that I have any regrets. You always wonder, what if I had done this or that differently. But I was always happy where I was."
Bill Oliver's legacy here at Martin Pringle is far beyond a name on the door. He set the gold standard in representing his clients' interests - zealously, intelligently, strategically, ethically, and proactively. He mentored generations of litigators. We are better for having known and worked with him.
Our thoughts and prayers are with the entire Oliver family.
See All News