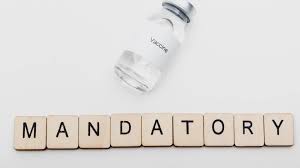 Federal – OSHA Emergency Temporary Standard
For the private sector, President Biden's September 9 action plan, Path Out of the Pandemic, directed the Department of Labor's Occupational Safety and Health Administration to develop an Emergency Temporary Standard (ETS) to require all employers with at least 100 employees to ensure their workforce is fully vaccinated or else subjected to weekly COVID-19 testing before coming into work. The ETS was released on November 4, 2021. Numerous states and other entities pursued various challenges to this vaccine mandate.
On January 13, the U.S. Supreme Court (pending further review before the Sixth Circuit, stayed the OSHA ETS. In reaching its conclusion, the Supreme Court held that: "Permitting OSHA to regulate the hazards of daily life—simply because most Americans have jobs and face those same risks while on the clock—would significantly expand OSHA's regulatory authority without clear congressional authorization."
Following that decision, the Secretary of Labor issued a statement, which provides that: "Regardless of the ultimate outcome of these proceedings, OSHA will do everything in its existing authority to hold businesses accountable for protecting workers, including under the Covid-19 National Emphasis Program and General Duty Clause." Thereafter, on January 25, OSHA announced that it is withdrawing the ETS, effective January 26, 2022. "Although OSHA is withdrawing the vaccination and testing ETS as an enforceable emergency temporary standard, the agency is not withdrawing the ETS as a proposed rule. The agency is prioritizing its resources to focus on finalizing a permanent COVID-19 Healthcare Standard."
On February 18, the U.S. Court of Appeals for the Sixth Circuit granted the government's motion to dismiss the multi-district litigation challenging the ETS. The case was dismissed as moot, in light of the agency's withdrawal of the ETS.
Federal – Federal Contractors
As part of the Path Out of the Pandemic, the president issued an executive order mandating vaccination for some employees of some federal contractors. The new order supplements an earlier July 29 directive and eliminates the testing option for those who are not vaccinated unless they receive an approved exemption. Like the OSHA ETS, numerous states and other entities pursued various challenges to this vaccine mandate. After various courts issued preliminary injunctions precluding the implementation of the mandate, enforcement of the mandate is currently enjoined nationwide.
Federal – CMS Requirements
On August 18, the White House issued a Fact Sheet announcing that U.S. Department of Health and Human Services would develop new regulations requiring nursing homes to require that all of their workers be fully vaccinated against COVID-19 in order to continue receiving Medicare and Medicaid funding. In conjunction with the release of the OSHA ETS, on November 4, 2021, the Biden administration and CMS issued an interim final rule requiring healthcare worker vaccinations to be completed by January 4, 2022. Like the other federal mandates, numerous states filed legal challenges to the CMS mandate. Ultimately, on January 13, the U.S. Supreme Court lifted the injunctions issued by those district courts. CMS issued updated guidance, explaining that "health care providers subject to the Omnibus Health Care Staff Vaccination rule in the 24 states (Alabama, Alaska, Arizona, Arkansas, Georgia, Idaho, Indiana, Iowa, Kansas, Kentucky, Louisiana, Mississippi, Missouri, Montana, Nebraska, New Hampshire, North Dakota, Ohio, Oklahoma, South Carolina, South Dakota, Utah, West Virginia, and Wyoming) covered by this decision will now need to establish plans and procedures to ensure their staff are vaccinated and to have their employees receive at least the first dose of a COVID-19 vaccine."
The deadline for full compliance in Kansas and Missouri is March 15, 2022, requiring that all covered facilities must ensure that 100% of staff have received the necessary doses to complete their vaccine series (at least receive dose two in a two-dose series), or have been granted a qualifying exemption, or been identified as being entitled to a temporary delay as recommended by the CDC. CMS has consistently updated its materials to include implementation guidance and timelines. If you have questions, please reach out to our employment law practice group.