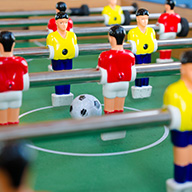 Sports Law
Martin Pringle's attorneys in Wichita and Overland Park, Kansas and Kansas City, Missouri have experience in sports law and focus on a variety of sports legal services and sports-related litigation for players, coaches and organizations.
Martin Pringle's sports practice focuses on providing a wide range of legal services to international, national and regional amateur sports associations, coaches, players and associated personnel, and sports-related businesses of all types. We are long-time members of the Sports Lawyers Association and the ABA's Forum Committee on Entertainment and Sports Law.
Our Kansas and Missouri sports lawyers provide general sports law counsel work, sporting event sponsorship, immigration, endorsements, sports broadcast and film rights, sports employment contracts and disputes, and other sports-related litigation.
Martin Pringle Attorneys at Law have experienced sports lawyers and sports attorneys in the Wichita and Kansas City area who can help with all areas of sports law. To learn more about Martin Pringle's sports law practice area, please go here.
About Martin Pringle
Martin Pringle is located in Wichita and Overland Park, Kansas and Kansas City, Missouri. Over the years, the Martin Pringle team has grown to more than 50 lawyers with expertise in a wide range of litigation and transactional practices, including sports law. For more than 60 years, a wide variety of clients have found Martin Pringle to offer not only the expertise, but also the people, values and style of operation that gives them comfort and confidence.
CONFIDENT is more than just a self-assured term for us.
At Martin Pringle, it's the straightforward and simplified process by which we approach legal matters.
Learn More